Telephone Appointment
If you feel that you do not need to see a doctor or nurse face-to-face, but would like some advice about a medical matter, who may wish to make a telephone appointment.
You can book a telephone appointment in exactly the same way as a routine appointment.
This can either be online or through the receptionist by calling the surgery number 0161 320 8788 preferably after 11:00 am.
Please let us know your preference, and make sure that the contact number that we have for you is up to date.
The doctor or nurse will ring at the appointed time.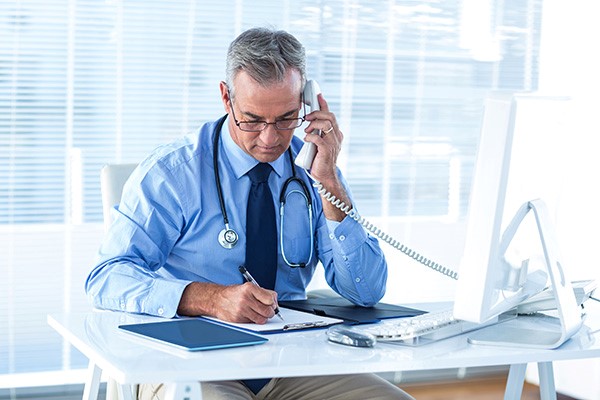 Please bear in mind that sometimes the surgery may be running late and the call will therefore be delayed accordingly.
Please also note that all telephone calls at the practice are recorded to ensure optimum service levels and for training purposes.
Text Reminder Service
To assist patients in remembering to keep their appointments we are able to offer a SMS text reminder service. The service will send you a reminder text message between 3 and 7 days prior to your appointment. If you wish to use this service please let us know your current mobile telephone number.
SMS Text Message Consent Form
Denton Medical Practice would like to offer you the ability to receive text message reminders for your appointments booked at the surgery.
The SMS service should not be solely relied upon, as the responsibility of attending and cancelling appointments still rests with you, but we hope this will make things easier.
So that you can continue receiving SMS text appointment reminders, we need you to explicitly consent by completing the online form below.
Cancelling Appointment
If you cannot attend your given appointment please call 0161 320 8788  to cancel or reschedule. On average 85 people every month fail to turn up for their appointments without informing us.
These slots could be put to good use and offered to another patient, allowing the doctors and nurses to reduce any backlog of patients and reduce waiting times. Please think of others when you can no longer attend or need a scheduled appointment.
You can also cancel your appointment online by submitting the form below. This has to be done at least 48 hours before your appointment is due and on a Thursday if your appointment is on Monday or Tuesday the following week.