Text Reminder Service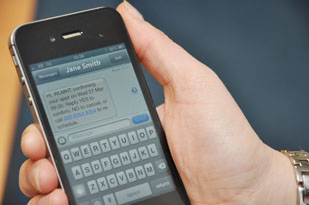 To assist patients in remembering to keep their appointments we are able to offer a SMS text reminder service. The service will send you a reminder text message between 3 and 7 days prior to your appointment. If you wish to use this service, please let us know your current mobile telephone number and completing the online SMS consent form.
Please note that all telephone calls at the practice are recorded to ensure optimum service levels and for training purposes.
SMS Text Message Consent Form
Denton Medical Practice would like to offer you the ability to receive text message reminders for your appointments booked at the surgery.
The SMS service should not be solely relied upon, as the responsibility of attending and cancelling appointments still rests with you, but we hope this will make things easier.
So that you can continue receiving SMS text appointment reminders, we need you to explicitly consent by completing the online form below.