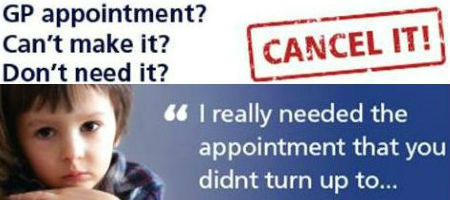 GP appointment? Don't need it? Cancel it!
We know people forget things, cancelling GP appointments being one of them. Remember to cancel your appointment if you don't need it.
How to Cancel an Appointment
If you are unable to keep your appointment, please give us as much notice as possible so that your appointment can be offered to someone else.
If you are cancelling please telephone us on 0161 320 8788 as soon as possible, and at least 60 minutes before your appointment time. This will enable us to offer your appointment to someone else.
Alternatively you can cancel your appointment online using  Online Access if you are signed up to the service. However, this has to be done at least 24 hours before your appointment is due.
Cancellations notified less than 60 minutes before the appointment time will be recorded as failure to attend (DNA).
Repeated failure to attend booked appointments is a significant waste of NHS resources.
Please note that all telephone calls at the practice are recorded to ensure optimum service levels and for training purposes.
Cancel Online
You can also cancel your appointment online by submitting the form below. This has to be done at least 48 hours before your appointment is due and on a Thursday if your appointment is on Monday or Tuesday the following week.
Text Reminder Service
To assist patients in remembering to keep their appointments we are able to offer a SMS text reminder service. The service will send you a reminder text message between 3 and 7 days prior to your appointment. If you wish to use this service, please let us know your current mobile telephone number and completing the online SMS consent form.
SMS Text Message Consent Form
Denton Medical Practice would like to offer you the ability to receive text message reminders for your appointments booked at the surgery.
The SMS service should not be solely relied upon, as the responsibility of attending and cancelling appointments still rests with you, but we hope this will make things easier.
So that you can continue receiving SMS text appointment reminders, we need you to explicitly consent by completing the online form below.